iBuyers: Are These New Faces of Real Estate Right for You?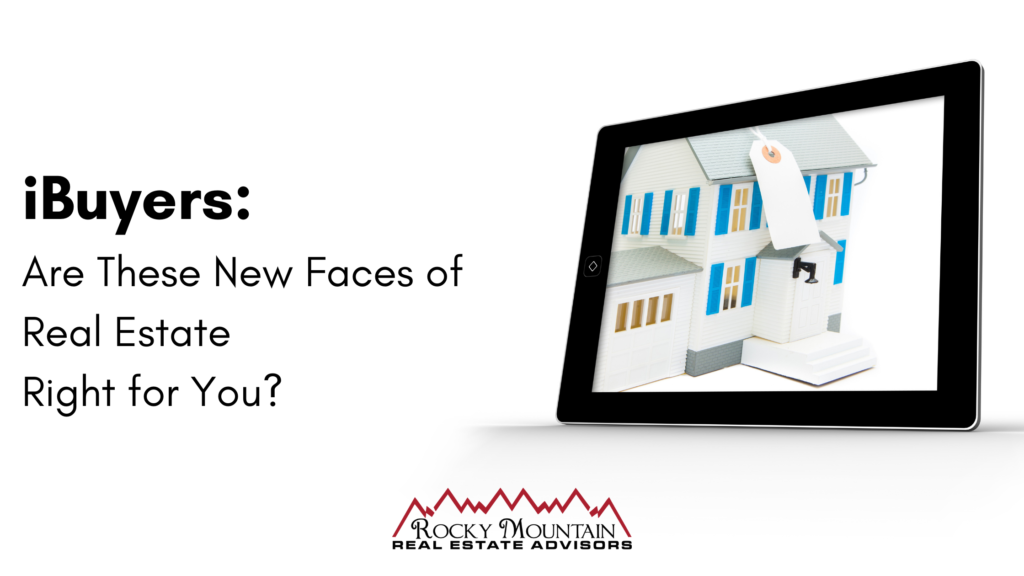 If you've been watching any TV lately, you've likely seen commercials advertising a way to sell your home quickly with just a couple taps on your screen. Open an app, provide some information about your home, and have an offer sent to you instantly. Sounds easy- right? Is it all too good to be true?
The short answer is no. These new faces of real estate, called iBuyers, (the "i" standing for "instant,") offer a practical way to sell your home, and are a good fit for a certain type of seller. Players such as Opendoor, Offerpad, and Redfin have opened a new metaphorical door that provides another route when the traditional way of selling real estate doesn't fit your situation.
With that in mind, as they always say, there is no such thing as free lunch. Let's talk about it- the pros and cons of iBuyers vs. hiring a Real Estate Agent.
What does it look like?
Traditionally, the process of selling your home has looked like finding a licensed Real Estate Agent to walk you through the first steps to the closing table. 
Over the past decade, iBuyers have been rising in popularity, seemingly streamlining the process. These operations make you an offer based on the sale price of similar homes in your area, (similar to how a real estate agent would price your home,) and will then list your home for sale once they have made any improvements they deem necessary. 
Pros
One advantage of taking the iBuyer route is the convenience. If you have ever sold a home, you know the day-to-day maintenance of your house to keep it showing ready can feel overwhelming. Not to mention the requirement to leave your house at any given moment if a last minute showing pops up, which can be especially difficult for families with children or pets. 
With iBuying, the offer you accept is from one party, which means you will likely only have to open your home to the inspector they send. You get to choose a closing date that works for you, and can sometimes even stay in the home for a few days after. 
The second, and potentially most enticing, advantage of iBuying is the speed.
Say you just received notice your job is transferring you out of state. Going the traditional route of hiring a Real Estate Agent can take some time- having your house cleaned, getting professional pictures taken, and taking care of deferred maintenance would all be suggestions.
While a good Real Estate Agent would work diligently to have this taken care of as quickly as possible to work with your timeline, the average home in Colorado in 2021 is on the market for 30 days. This is a notable contrast from the amount of time it takes to receive an offer from an iBuyer, which can be in as little as 1 day.
For sellers looking to move quickly, having an offer almost instantly and knowing what day that money will be yours can be the tylenol to the "I have to move right now" headache.
Cons
Two words: less profit.
According to a study done by MarketWatch, sellers make an average of 11% less profit when they sell to an iBuyer vs. a traditional buyer. 
This is in part due to higher fees. The average fee incurred during the iBuyer process is 7.5%. This of course depends on which service you use, and can differ based on how long your house is estimated to take to sell. Some fees go as high as 13%.
The average fee in Colorado when you use a Real Estate Agent is 5.5%.
Another reason for a potential loss of profit comes from an offer that may be less than what your home could sell for.
When a Real Estate Agent is hired to sell your home- one of your greatest assets- they offer many services that are missed in the iBuying process. A great R.E. Agent has a marketing plan to get your home seen by the best buyers, and the negotiation skills to get you top dollar. Having your home listed in the Multiple Listing Service allows you to receive multiple offers, which often drives up the price. Without the competition of other offers, iBuyers are able to give you an offer which may be less than what you would have made in the traditional market.
When an iBuyer turns around and puts your home on the market via the Multiple Listing Service, they make an average of 8.1% profit.
Is iBuying Right for You?
For sellers who are looking to move quickly and avoid the potential hassles of listing their home open for showings, iBuying is a convenient and quick way to get moving. If when weighing your priorities, getting the largest amount of profit is at the top of your list, you may want to go the traditional route in selling your home. 
If you choose to go the route of an iBuyer, make sure you do your research on which platform will work best for you. Different iBuyers charge different fees, as well as offer different services.
If you want to hire a Real Estate Agent to sell your home, research is still key. Find an agent who aligns with your values, and communicate your needs to them, such as your ideal timeline and profit. Your R.E. professional will be able to make suggestions and adjustments in order to meet your needs and make sure the process goes as smoothly as possible.
Looking for a REALTOR®? Check out our agents tab above to learn about all of our professionals who are ready to get you moving in the right direction.
Written by Reagan Hickey | REALTOR® | Social Media & Marketing Coordinator
You can share this story by using your social accounts: