Coronavirus (Covid-19) Small Business Guidance & Loan Resources Care Act 2020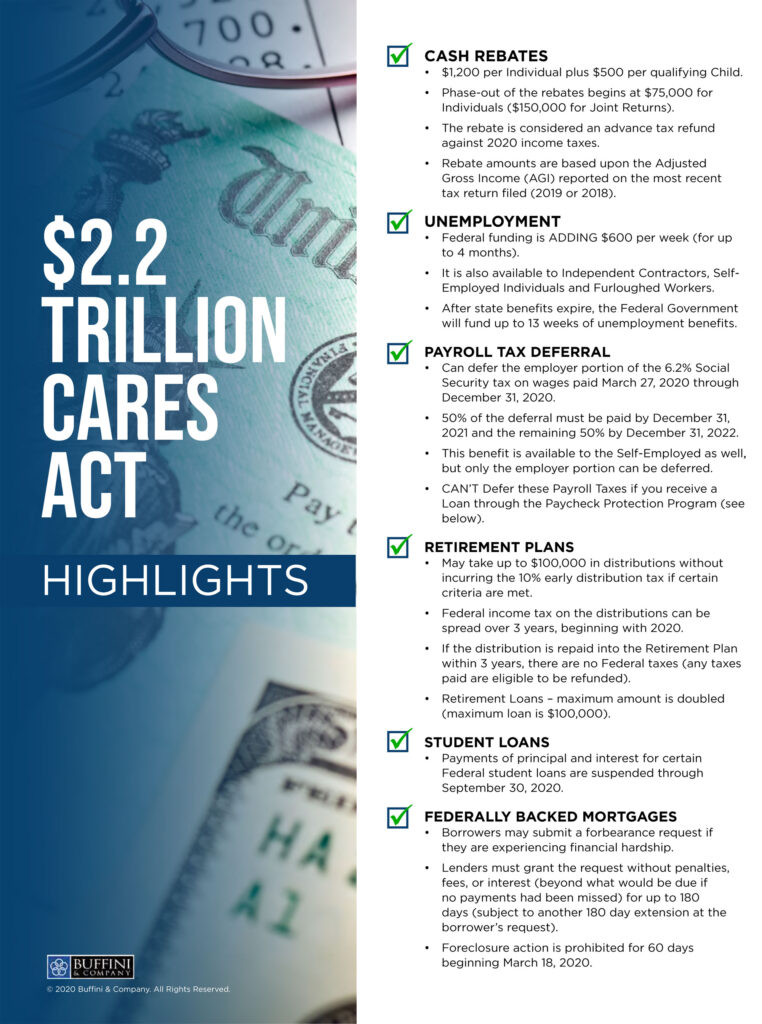 Care Act Highlights $2.2 Trillion Dollar Relief Plan
CASH REBATES
$1,200 per Individual plus $500 per qualifying Child.
Phase-out of the rebates begins at $75,000 for Individuals ($150,000 for Joint Returns).
The rebate is considered an advance tax refund against 2020 income taxes.
Rebate amounts are based upon the Adjusted Gross Income (AGI) reported on the most recent tax return filed (2019 or 2018).
UNEMPLOYMENT
Federal funding is ADDING $600 per week (for up to 4 months).
It is also available to Independent Contractors, Self- Employed Individuals and Furloughed Workers.
After state benefits expire, the Federal Government will fund up to 13 weeks of unemployment benefits.
PAYROLL TAX DEFERRAL
Can defer the employer portion of the 6.2% Social Security tax on wages paid March 27, 2020 through December 31, 2020.
50% of the deferral must be paid by December 31, 2021 and the remaining 50% by December 31, 2022.
This benefit is available to the Self-Employed as well, but only the employer portion can be deferred.
CAN'T Defer these Payroll Taxes if you receive a Loan through the Paycheck Protection Program (see below).
RETIREMENT PLANS
May take up to $100,000 in distributions without incurring the 10% early distribution tax if certain criteria are met.
Federal income tax on the distributions can be spread over 3 years, beginning with 2020.
If the distribution is repaid into the Retirement Plan within 3 years, there are no Federal taxes (any taxes paid are eligible to be refunded).
Retirement Loans – maximum amount is doubled (maximum loan is $100,000).
STUDENT LOANS
Payments of principal and interest for certain Federal student loans are suspended through September 30, 2020.
FEDERALLY BACKED MORTGAGES
Borrowers may submit a forbearance request if they are experiencing financial hardship.
Lenders must grant the request without penalties, fees, or interest (beyond what would be due if no payments had been missed) for up to 180 days (subject to another 180-day extension at the borrower's request).
A foreclosure action is prohibited for 60 days beginning March 18, 2020.
© 2020 Buffini & Company. All Rights Reserved.
Coronavirus (Covid-19) Small Business Guidance & Loan Resources Care Act 2020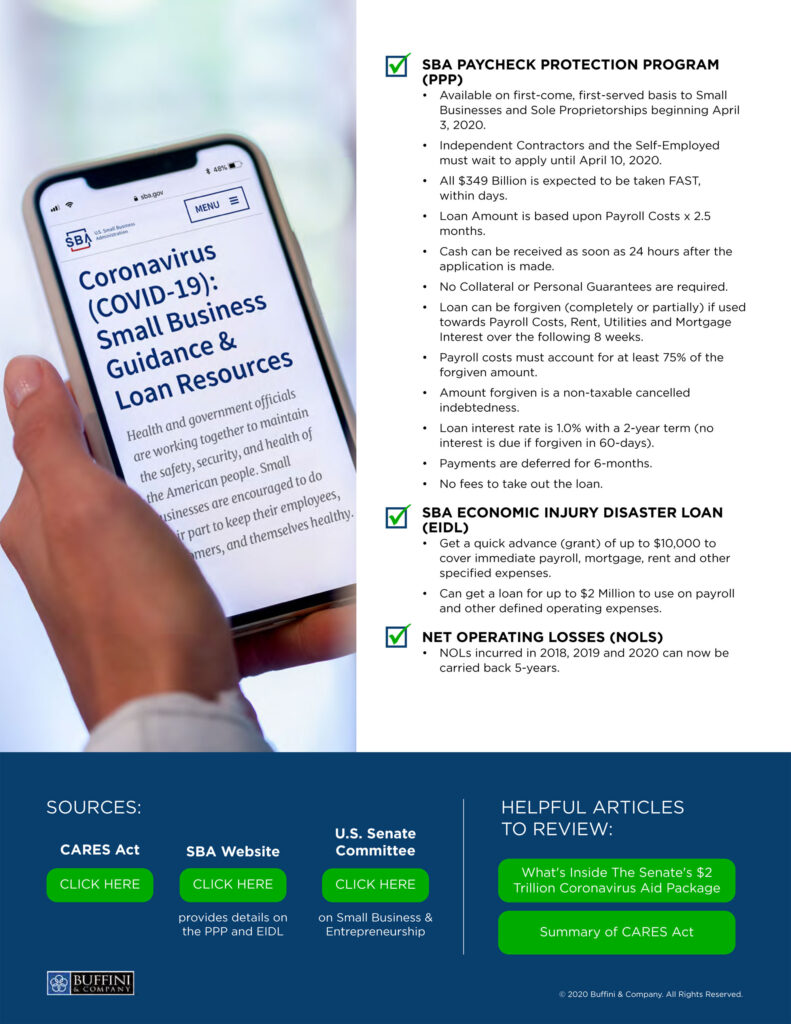 SBA PAYCHECK PROTECTION PROGRAM (PPP)
Available on a first-come, first-served basis to Small Businesses and Sole Proprietorships beginning April 3, 2020.
Independent Contractors and the Self-Employed must wait to apply until April 10, 2020.
All $349 Billion is expected to be taken FAST, within days.
Loan Amount is based upon Payroll Costs x 2.5 months.
Cash can be received as soon as 24 hours after the application is made.
No Collateral or Personal Guarantees are required.
Loan can be forgiven (completely or partially) if used towards Payroll Costs, Rent, Utilities and Mortgage Interest over the following 8 weeks.
Payroll costs must account for at least 75% of the forgiven amount.
Amount forgiven is a non-taxable canceled indebtedness.
Loan interest rate is 1.0% with a 2-year term (no interest is due if forgiven in 60-days).
Payments are deferred for 6-months.
No fees to take out the loan.
SBA ECONOMIC INJURY DISASTER LOAN (EIDL)
Get a quick advance (grant) of up to $10,000 to cover immediate payroll, mortgage, rent and other specified expenses.
Can get a loan for up to $2 Million to use on payroll and other defined operating expenses.
NET OPERATING LOSSES (NOLS)
NOLs incurred in 2018, 2019 and 2020 can now be carried back 5-years.
Helpful Links and Articles to Review
You can share this story by using your social accounts: