Affordable Net-Zero Housing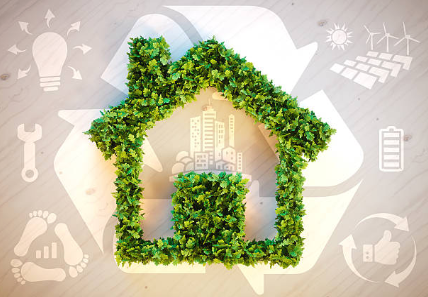 As a Green REALTOR specializing in sustainability, I'm often asked about net-zero building. More and more Colorado homeowners are "going green," preparing for the future by making better energy choices in their homes. With an existing building, this might mean installing solar panels, using LED lighting, or using water-conserving appliances and fixtures. These are all worthy choices. But buyers interested in newly constructed homes have an opportunity to be a bit bolder. By choosing to build a net-zero home from the ground up, they can greatly reduce and even eliminate the carbon footprint of their homes.
What is Net-Zero Building (and Can I Afford It)?
The World Green Building Council defines a net-zero-carbon home as one that is highly energy efficient and is fully powered from on-site renewable energy sources. What this means is that most or all the energy the occupants need for heating, cooling, and general electricity use is produced by the structure itself. When we think of greenhouse gas emissions, we tend to think of cars and factories as the big culprits. Yet according to the Congressional Research Service, residential housing is responsible for about 20% of greenhouse gas emissions in the U.S. That's a big deal.
Net-zero homebuilders are poised to change that. A lot of science goes into the design of zero-energy homes—and unfamiliarity with that science sometimes leads buyers to assume that such homes are mostly for the rich and famous, or perhaps the inhabitants of a far-off Scandinavian country.
In my experience, that's not true at all. A net-zero home can be quite affordable to build, and they are being built with increasing frequency right here on our doorstep.
Making Net-Zero Housing an Affordable Choice in Colorado
With the cost of heat pumps and solar panels coming down, the cost barriers to owning a carbon-footprint-free home might not be as high as you think. The U.S. Green Building Council reports that a net-zero home costs just less than ten percent more to build than a standard home (the cost of building a standard new 2,400-square-foot home is $240,000, while the average net-zero home costs just $263,500 to build). That is just $100 vs. $109.80 per square foot. Studies show that depending on where you live, it takes between seven and 13 years for that extra construction cost to pay for itself through energy savings.
Colorado has an average of 300 days of sun per year, and being at the 40th parallel, we have a good angle of sunshine year-round. We do have wide ranges in temperature, but with smart building strategies, it is possible to build homes to be easier to cool in summer and warm in winter. An added benefit is that these new homes are reinforced to withstand tornadoes, wind shear, hail, blizzards, and flash flooding.
How to achieve the Net Zero Energy Efficient Goal
I was recently involved in a home build in Aurora, Colorado that attained a net-zero-energy outcome very affordably. What follows are some of the characteristics these builders incorporated into the home to achieve that goal.
A Geothermal Pathway. Geothermal heating and cooling involves pulling energy contained in the rock and waters of the Earth's crust when heat is needed and pushing heat back down to be reabsorbed by the Earth when cooling is needed. The first step in the building of the Aurora home was drilling a 350-foot-deep geothermal bore beneath the site so that geothermal energy could be used for temperature control as well as a heat source for the water heater and clothes dryer.
A Highly Engineered Foundation. Because the property had typical Colorado mixture of clay and sandy soil to work with, the Aurora home design incorporated an elevated foundation and a six-inch air gap under the house to mitigate the effect of soil moving over time. The gap also provides air circulation to rid the home of any harmful Radon gas.
Insulated Concrete Forms (ICFs). ICFs are one of the most efficient products to create an insulating envelope around the home. The Aurora home has an ICF wall structure from the foundation slab to the roof truss, designed to not only prevent heat transfer, but protect the home from disasters. The interior drywall was attached directly to the ICFs, making for a quick construction time.
Exterior Insulation and Finishing System (EIFS). The exterior walls were given this finish that has the appearance of stucco but with superior insulation and durability.
Heat Pump Technology. A vertical loop of plastic pipe was installed down the 350-foot geothermal well to allow a liquid solution to circulate to and from the home. An efficient heat pump draws heat from the Earth in winter and transfers the heat back downward in the summer.
Solar Panels for Electricity Production. The 3.9 kWh solar photovoltaic panels installed on the roof provide the majority of energy needed for LED lighting, the heat pump, and low-energy appliances such as a convection oven and induction cooktop. It could even power an electric car if needed. These panels were spinning the electric meter backwards with minimal sunshine during the final months of construction.
Efficient Windows. The use of low-E coatings helps to minimize the loss of heat in winter while blocking heat in summer. The window placement was designed to take advantage of the seasonal paths of the sun (a "passive solar" strategy), capitalizing on angles that would promote natural warming of the house in winter.
Water Conservation Measures. Many people overlook water conservation in the building of homes, but low-flow toilets and other fixtures are attractive, readily available, and cost-effective. Buying fixtures and appliances with the WaterSense certification on products can save thousands of gallons of water per year. Modern plumbing techniques also help hot water move quickly around the home, so you spend less time over an open tap waiting for it to warm up.
I'm excited for these zero-emission homeowners as they go into the future with a house they can be proud of—and that will save them energy costs in the long run. If you would like to learn more about building a net-zero homes, call me at (720) 840-8050. I would love to help you go green.
Marty Doane - Our Green Net-Zero Home Expert
Marty Doane is an experienced RMREA broker and is partnered with Doane Designs, a leading local home design and remodeling company. Among his specialties are green homes, new builds, resales, and otherwise turning your vision into reality.
You can share this story by using your social accounts: