Sounds of Southlands Summer Concert Series
Colorado is known for its beautiful sunsets, blue skies, and enjoyable night time temperatures. What could be better than all of that mixed with local talented musicians on a Thursday night June - August at Southlands Town Square The series features another outstanding line-up of the area's top bands for your listening...and dancing enjoyment! The Kid's Corral also has a variety of activities each week
to keep the little ones entertained. Bring your chairs, grab a bite from one of the many nearby eateries.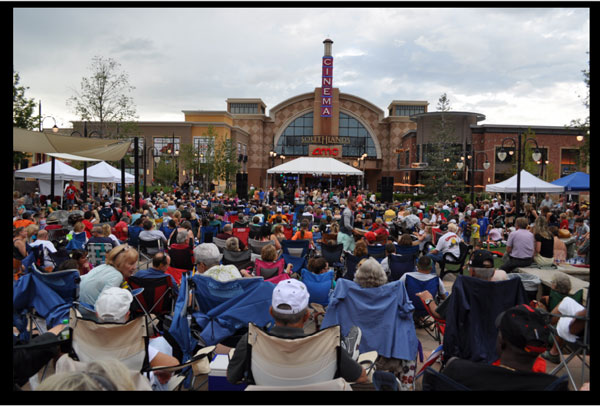 2017 Sounds of Southlands Concert Schedule
 June 22: Funkiphino Colorado's Funk Sensation!
Get ready to get your 'groove on'! This band will have all Southlands jamming and dancin'! We are thrilled to have this cornerstone of Colorado's music scene open our 2017 'Sounds of Southlands' Concert Series.
June 29: Phat Daddy Denver's Hottest Band Since 2001!!
Phat Daddy is a high-energy band consisting of some of Denver's top nightclub and showroom performers. This uniquely flexible five-piece group boasts the ability to provide an outstanding night of entertainment for literally every musical taste.
July 6: Sheryl Renee Denver's fabulous chanteuse!
The dynamic versatility of Colorado's Sheryl Renee comes from a literal lifetime in the entertainment music business. An audience favorite, Sheryl has shared the stage with the best talent in the world and moves effortlessly between music genres, artistic avenues, and her entrepreneurial pursuits.
July 13: New Sensation The BEST of Eighties Rock New Sensation is a thrilling ride 'Back in Time' to the crazy days of MTV and mullets.
From Journey to Michael Jackson, all the great music of the 80's is brought to life with this exciting band that features some of Colorado's finest musicians. Amazing vocals do true justice to all the 'stadium rock' anthems of the video age.
July 20: Dotsero Colorado's Brand of Jazz!
Taking their name from a small mountain town in the Rocky Mountains of Colorado, DOTSERO means "Something Unique" according to legend, but to jazz fans worldwide DOTSERO means Contemporary Jazz at its best!
July 27: Soul X Colorado's Soul Experience!
Looking for a band to make your evening unforgettable? Well? You've found it! Soul X is an 8-piece corporate and special event variety band that has a rare combination of talent, expertise versatility, showmanship, and fun!
August 3rd: 17th Avenue All Stars High Energy Rockin' A'cappella
The 17th Avenue Allstars are celebrating their 27th year as one of Denver's top musical acts singing contemporary a cappella. The Allstars have performed all across the Nation, sharing the stage with BB King, The Temptations, Dave Mason, Mel Torme, and Robert Cray.
August 10: Country Music Project Hot Country – Current and classic!
The Country Music Project is Colorado's hottest country music group that includes some of the state's best musicians. TCMP can be seen on any given weekend performing traditional country from artists like Merle Haggard & Johnny Cash, but you'll also see them perform today's Top 40 country from artists like Lady Antebellum, The Band Perry, Miranda Lambert, Carrie Underwood or Dierks Bentley. And don't leave early because there's always some great rock-n-roll before the lights go out!
August 17: The Nacho Men By popular demand!
You'll want to jump up and dance when you hear The Nacho Men play, but remember to keep one eye on the stage to catch the wacky antics and guest "superstar" performers who frequent The Nacho Men shows.
 *Alcoholic beverages are not allowed on Town Square, however, McCabe's Irish Bistro & Pub will have a beer garden where alcoholic beverages may be purchased and consumed. This event is kid and well-behaved dog-friendly.
You can share this story by using your social accounts: