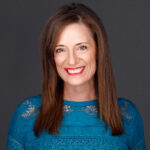 Living in Franktown/Parker has made me appreciate that owning real estate in Colorado is beyond just a home with all it has to offer to equestrians, hikers, climbers, golfers, skiers, and anyone who loves the outdoors. 
My unique 25+ years of experience in horses and building farms gives me an ability to be a wealth of information and I specialize in luxury horse property. I'm also continuing to stay up-to-date and educated through the Institute of Luxury Home Marketing. Real estate can be the best investment we make over our life-time, so I believe in keen negotiation skills and continuing detailed market knowledge. 
All of my education and experiences in life have brought me to the best career I could have ever envisioned. I approach everything on a deep level which keeps me young at heart and full of energy to work diligently for my clients. I am grateful that many have become life-long friends.
I feel it is important our firm prides itself on what we do as realtors: practicing law within the realms of real estate contracts. It is important for me to work with career-minded and seasoned brokers who can handle any unique real estate situation.

I am also happy to talk with you about horses and/or gardening in Colorado! 
Contact Pamela
Office: (303) 805-9551 ext 114
Cell: (970) 703-6160
pamela@beyondjusthomes.com