KNOWLEDGE + EXPERIENCE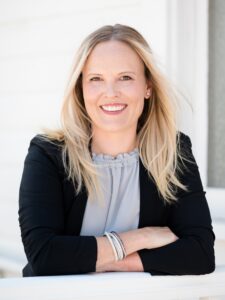 Jennifer Garceau has been part of the Rocky Mountain Real Estate Advisors family since 2016.
As a child, she loved to help her father as he undertook home renovation projects, and growing up, she considered becoming an architect. Her business acumen led her in a different direction, however, and she graduated university with a degree in marketing. Today, as a REALTOR®, she has found a way to combine both passions, and the real estate business is the perfect fit for her.
EXCEPTIONAL CUSTOMER CARE
As a military spouse, Jennifer moved to Colorado from Germany in 2014. She knows firsthand how intimidating selling, moving, and finding a home can be. She aims to create a unique selling or buying experience for her clients while guiding them through the complexities of real estate transactions in a stress-free way.
Jennifer is German, so you can expect legendary German attention to detail when you are in her care. She is fascinated by architecture and if you are buying, she will enthusiastically tour homes with you until you find the perfect one. If you are selling, she will know exactly which unique features of your home to highlight and how to market it. And when the time comes to negotiate, she will fight hard to get the best possible result for you.
Jennifer's goal is to build a genuine relationship with you, based on open and honest communication, personal connection and helpful information—even long after your closing.
LIFE AT HOME
Jennifer's husband is a Colorado native and her family is happy to be here so they can enjoy skiing and hiking in the beautiful Rocky Mountains. Her German knack for organization comes in handy at home, where she has three boys aged seven, four, and one. They live in Castle Rock and together they enjoy sports (especially soccer), crafts, and spending time with friends.
CONTACT JENNIFER

Office: (303) 805-9551 ext 107
Cell: (720) 355-3682
Email: jennifer.corealtor@gmail.com
ERFAHRUNG + WISSEN

Jennifer Garceau ist seit 2016 Teil der Rocky Mountain Real Estate Advisors-Familie.
Als Kind liebte sie es, ihrem Vater bei Renovierungsprojekten zu helfen, und sie dachte darüber nach, Architektin zu werden. Ihr Geschäftssinn führte sie jedoch in eine andere Richtung, und sie schloss erfolgreich ihr Studium als Diplom-Betriebswirtin mit Schwerpunkt Marketing ab. Als REALTOR® hat sie heute einen Weg gefunden, beide Leidenschaften zu verbinden, und das Immobiliengeschäft passt perfekt zu ihr.
AUSGEZEICHNETER KUNDEN-SERVICE
Als Militär-Angehörige zog Jennifer 2014 von Deutschland nach Colorado. Sie weiß aus erster Hand, wie einschüchternd verkaufen, umziehen und ein Zuhause finden sein können. Ihr Ziel ist es, ein einzigartiges Verkaufs- oder Kauferlebnis für ihre Kunden zu schaffen und sie stressfrei durch die Komplexität ihrer Immobilientransaktion zu führen.
Jennifer ist Deutsche, Sie können von ihr also die legendäre deutsche Liebe zum Detail erwarten. Architektur fasziniert sie, und wenn Sie kaufen, wird sie mit Begeisterung Häuser mit Ihnen besichtigen, bis Sie Ihr perfektes Zuhause finden. Wenn Sie verkaufen, wird sie genau wissen, wie sie die einzigartigen Merkmale Ihres Hauses hervorheben kann, um es optimal zu vermarkten. Und wenn es Zeit ist zu verhandeln, wird sie hart kämpfen, um das bestmögliche Ergebnis für Sie zu erzielen
Jennifer's Ziel ist es, eine echte Beziehung zu Ihnen aufzubauen, die auf offener und ehrlicher Kommunikation, persönlicher Verbindung und hilfreichen Informationen basiert – auch lange nach dem Abschluss Ihrer Transaktion.
LEBEN ZU HAUSE
Jennifer's Ehemann ist in Colorado geboren und aufgewachsen, und ihre Familie freut sich darüber, in den schönen Rocky Mountains Skifahren und Wandern zu können. Ihr deutsches Organisationsgeschick ist zu Hause sehr hilfreich, da sie drei Jungen im Alter von sieben, vier und einem Jahr hat. Sie leben in Castle Rock und zusammen genießen sie Sport (besonders Fußball), Basteln und Zeit mit Freunden zu verbringen.
KONTAKTIEREN SIE JENNIFER
Büro: (303) 805-9551 ext 107
Handy: (720) 355-3682
jennifer.corealtor@gmail.comsince